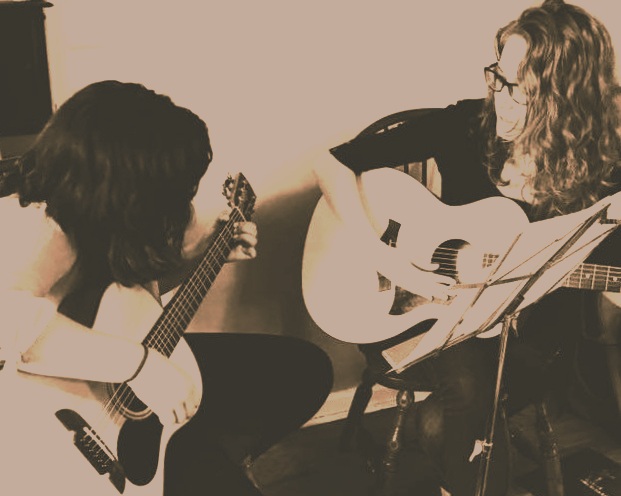 Acoustic musician with over 20 years of experience offers guitar lessons to ages 7 and up!
In the past, private guitar lessons have been lacking in an approach that offered any real structure or plan for those who wish to start, develop or perfect their guitar playing. I'm here to change all that...
As a result of my guitar lessons, guitarists from all walks of life are able to:
Play with correct form and technique

Read any guitar chord, tab and basic sheet music

Play multiple genres with ease and confidence

Feel comfortable with new material and playing improv
Play songs that you know and love to realistically apply what you study. Together, we'll learn what you should and shouldn't be spending your time on.
Guitar lessons that are easy to understand, fun and enriching. Not only will you learn your favorite songs; but you'll also touch on songs, theory and techniques in latin jazz, funk, reggae, blues, jazz, pop, rock and country.
They can even be tailored to build on the skills that you've developed through previous beginner lessons and programs. These lessons are for absolute beginners to advanced beginners and everyone in between.
Learn guitar at your own pace and skill level; in an encouraging and fun environment!
Each lesson comes with:
Lesson packets that I provide to you w/ all necessary done-for-you resources and guitar tabs

Customized lessons by learning songs/genres you love in the appropriate lesson

A written review and homework PDF after every lesson

Video examples for all exercises and songs taught to use during practice

Private text/email/call help in between lessons (Mon-Sat 11 AM-8 PM est)

Lifetime access to a private Facebook Student's Group to learn even more (even if you finish lessons)

Invitations to play at open mics and other events

Weekly and monthly playing/performing assessments of the guitar player

Grades and attendance records for homeschooled students
New students get one free lesson w/ initial lessons package of 1 hour lessons. Let me know if you have any questions by sending me a message.
*Now until April 12, new students can get $20, $50 or $95 off 45-60 minute lessons!*
Whether you're 7 or 57, guitar lessons will enhance your life! All you need is a guitar, a little bit of time, practice, and dedication. If you just want to learn the basics or you want to become the best in the world, sign up for lessons today!
FAQ:
What does an actual lesson look like?
I'll have a lesson packet prepared for you with me if we meet in person; if online, I'll email the lesson packet to you 3-5 days before your lesson. The lesson packet is a combination of where your current progress is in the course plus your wants and needs as a guitar player.
If we had a previous lesson, the first half of the lesson would be a review of the previous lesson to make sure you understand what you just learned so you can move on. Everything you learn will be built on the previous idea or ideas.
Wait...so I get personal help outside of class?
That's right! I talk with people 1-on-1 to help clear up any questions or confusions that come with learning guitar. During reasonable hours and with patience, of course!
What do I need to start lessons?
The 3 main things you'll need is a guitar, guitar picks and a guitar tuner or app. I can help you pick out some awesome equipment if needed! Later on, you'll need a guitar capo and extra strings.
Can someone take the class with me?
Yes! I can teach groups of 2-5 people and would offer $5-$15 off per person per lesson, depending on your package.
Do you charge to travel to my location?
From 0-5 miles, there's no travel fee. 6-12 miles is $5 and 13-20 miles is $10. Take Lessons only allows me to put in one fee and I will adjust accordingly as necessary.
What if I can't make a class?
That's ok! If you let me know within 24 hours of the class we can easily reschedule and you won't get charged. In certain emergencies, less than 24 hours would be ok.
Can kids take your lessons?
Yes, ages 7 and up. They'll learn the guitar and eventually play the songs they love in a fun, supportive and comfortable atmosphere.
How long will it take me or my child to be good at guitar?
With steady practice, playing for others, and weekly private guitar lessons, kids to adults can play with basic proficiency in as little as 6 months. Some students reach the level of advanced guitarists in as few as 3-5 years, but it will vary.
The bottom line is that it's not the songs you practice, but that you spend time playing the guitar. To see the best results, I recommend practice 5-6 days a week, 30-min a day.
What happens after I purchase lessons?
I'll send you a New Student Packet as soon as I can that will include a detailed syllabus, an equipment suggestions list w/ specific brand recommendations (that fits every budget), and the private lessons agreement. And before our very first lesson, I will contact you to set up a short initial meeting to go over everything and to make sure it's a fit.
What if I want to stop lessons?
No biggie! If you pay through Take Lessons, the class credits you have remaining will be returned to you and they will handle your refund. If you pay through PayPal ,or the like, you will get what's remaining in your account minus the cancellation fee that's stated in the lessons agreement.
Am I too old to learn guitar?
Determination and heart are stronger factors than age when learning guitar.
Do you teach electric guitar or just acoustic?
I can teach you how to play guitar on an electric guitar and know a little about working the amp with pedals/effects. I AM NOT an electric guitarist though and can only go so far in that area.
What happens when I go through all the beginner lessons?
You will take a Beginners Test which has a written portion and practical portion. The test covers important topics from each lesson packet and important chords you'll need to have memorized. If you get an 80% or higher, you can then move on to the Intermediate lessons.